The Sunshine "pocket"
January Fly-In
New video tutorials for January - ready now!

Manager Video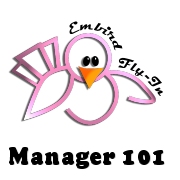 Everyone loves free. Check out my Embird Manager video on Vimeo
Favorite Places
It's a Peggy's World - my blog!
Welcome to Pegboard Crafts, also the home of Fly With Embird Seminars.
I am looking forward to teaching Embird classes and vending my in-the-hoop designs at The Everything Embroidery Market in Chattanooga TN in April.
Pegboard Crafts
As Pegboard Crafts, I specialize in appliqué and in-the-hoop projects for computerized machine embroidery. All designs are original. I do not use clip art.
To enter the world of Pegboard Crafts, click on the PEGBOARD button above which will take you to the What's New designs page. From there, click the Designs button in the toolbar and select your category.
Designs are emailed within 24 hours of purchase whenever possible. If paying with PayPal, please check that the email provided is current.
Also visit my photos sections to see pictures of projects made by myself and my customers. These pages are a work in progress ...
Fly With Embird
As Fly With Embird Seminars, I am an independent educator who teaches others to use the wonderful embroidery software program - Embird. It is the program I use to create all of my own designs.
Educational opportunies include monthly webinars, videos, printable tutorials as well as face-to-face classes.
To enter the Embird side of the website, click here or click on the EMBIRD button above.
Site Navigation
If you have trouble navigating using the menu, please use the site map which is a text menu with clickable links.
Shopping Cart system powered by Vibracart PayPal