Join my Embird groups on Yahoo groups
Embird Seminars 2014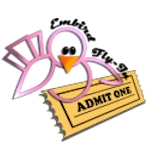 Embird Fly-Ins
Live, online classes and videos now have their own page!

Next Fly-In is April 29, 8:30 PM EST
Click image to go to Fly-Ins home.
Philadelphia/DC area - Summer 2014
Plans are in the works and dates and class topics will be announced ASAP. Stay in touch here or join the Fly With Embird group (see right panel for link). You may also contact me to have your name added to the class list. No obligation to have your name added, but those on the list get first chance at the spaces. Class size is limited to 15 and there are 10+ on the list already! So don't delay! Update: April 13 - Weather stalled our plans for spring, but we are still intending on having the class. Stay tuned!
Classes in your area?
Are you interested in having an intensive Embird class in your area? We need at least 10 students to make a class happen. If you are are an enterprising individual and determined to attend a class, you can help make it happen. Please contact me at FlyWithEmbird@pegboardcrafts.com.
Classes suggested so far are New Jersey, Boston, Sacramento, Kansas City, Des Moines, Cedar Rapids and St Louis. If any of these are of interest to you, let me know. I will add you to the contact list. FlyWithEmbird@pegboardcrafts.com